Education for Sustainable Development
The difficulties inherent in implementing environmental and infrastructural programs are complex and tend to have their roots in the overall institutional field, with legal frameworks, administrative organizations, and management structures as the specific causes of most issues.
It is this area that TTW measures are applied.
In order to pass on the principles of integrated water resources management (IWRM) and good governance, TTW organizes a broad range of activities to promote exchanges and educational measures to accompany projects being implemented, such as:
Consultancy also on site
Seminars in Bavaria (IWRM-seminars and specialized seminars in selected topics)
Conferences and lecture events in the partner countries
Internships in Bavaria
Translation of specialist literature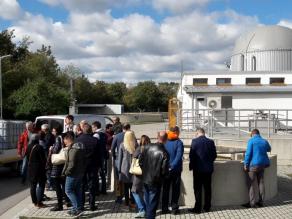 Visitors at the sewage treatment plant in Bad Abbach for a specialized seminar
In individual cases, we act as experts for administrative management and adapted technology in real projects.
Within our contact network, we disseminate general information's via newsletter. For some priority countries and if necessary, we organize meetings for interested partners.
Teilen