Technology Transfer Water (TTW) Network
Technology Transfer within the sense of Agenda 21
The Technology Transfer Water (TTW) Network was set up 1999 by the Bavarian State Ministry of the Environment and Consumer Protection for the support of international collaboration in the field of water management.
TTW is a state-run, non-commercial institution which offers objective and independent advisory assistance. We pass on the experience of the Bavarian water management administration to colleagues from administration and municipalities of our partner countries. Experiences from foreign projects flow into own management.
TTW act as a module within the Federal German efforts for the promotion of technology transfer in the water sector. In addition, it fosters contact to the international organisations in the water sector.
Aims of TTW
Sustained utilisation of the resource water within the sense of Agenda 21
Institutional advisory aid with the build-up of a functioning environmental management
Assistance with the determination of suitable environmental standards/ implementation of EU requirements into national law
There is a need for favourable access to and transfer of environmentally sound technologies, in particular to developing countries, through supportive measures that promote technology cooperation and that should enable transfer of necessary technological know-how as well as building up of economic, technical, and managerial capabilities for the efficient use and further development of transferred technology.

Agenda 21, chapter 34.4
Partners of TTW
Abroad these are public administrations, engineering associations and municipal institutions in the field of water management.
In Germany, these are firms, institutions and experts, which are active in the world market of water management. All satisfy high quality requirements.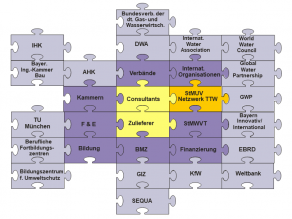 TTW network enables exchange and information on short ways
Additional information's
Links
Teilen