PureAlps – Monitoring of Persistent Pollutants in the Alps
Sampling-Devices for ambient-air and deposition sampling at Mount
Zugspitze
PureAlps is designed to protect the Alps from persistent chemicals which have a potential for accumulation in organisms and which are toxic. Regions with cold climates such as mountain ranges and the poles are especially prone to atmospheric input of such chemicals because of more pronounced condensation at lower temperatures.
A unique time series on persistent pollutants
PureAlps uses measurement devices at the highest research sites in Germany and Austria, the Environmental Research Station Schneefernerhaus at Mount Zugspitze, 2.650 m asl, and the Sonnblick Observatory at Hoher Sonnblick, 3.106 m asl. Starting with the precursor project MONARPOP (Monitoring of the Alpine Region on Persistent Organic Pollutants), concentrations of persistent chemicals in air and deposition (dust, rain- and snowfall) are recorded since 2005.
Within this unique time-series from both summits, it has been shown that beside very low air-concentrations, the input of chemicals such as dioxins and PCBs (Polychlorinated Biphenyls) is comparably high. Additionally, it could be demonstrated that about 35% of investigated chemicals show significant decreasing concentrations in ambient air at least at one monitoring site. Only 4% of substances exhibit a significant increase in concentrations, such as octochlorostyrene.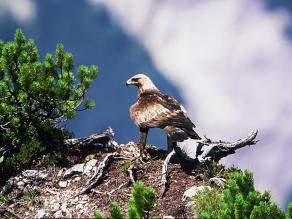 The golden eagle accumulates persistent pollutants which might be a reason for its low reproductivity in the Bavarian Alps.
PureAlps is extending investigations to achieve a more complete picture: Additionally to measurements of air-concentrations and deposition, PureAlps investigates organisms such as chamois (rupicapra rupicapra), fishes, birds-eggs and honey-bees to assess the degree of bio-accumulation of the investigated chemicals.
PureAlps contributes to national and international chemicals regulation and serves as an early warning device for globally emerging pollutants.
Which substances are investigated?
Substances which are focus of PureAlps are:
Mercury,
at present predominantly emitted from coal-fired power plants
Per- and polyfluorinated chemicals
(PFC), used in many industrial processes and especially for dirt- and water-repellent surfaces in textile industry)
Dioxins and polybrominated biphenyls (PCBs)
Organochlorine pesticides (OCPs)
Brominated flame retardants,
such as HBCD (Hexabromocyclododecane) and PBDEs (Polybrominated diphenyl ethers), which are used in a broad range of synthetic materials including heat-insulation material within the construction sector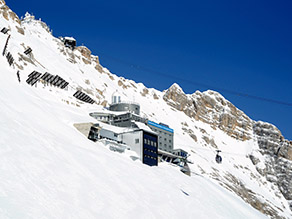 The Environmental Research Station Schneefernerhaus (UFS) at Mount
Zugspitze
, 2.650 m asl.
In effect, PureAlps is dealing with the majority of pollutants which are focus of international measures for mitigating chemicals emissions such as Stockholm Convention on persistent organic pollutants and Minamata Convention on mercury.
Contact
If you are interested in the project, please contact:
Bavarian Environment Agency, Evaluation of Substances and Chemicals
Patricia Janz, Tel.: +49-(0)-821/9071-5906, Patricia Janz
Dr. Korbinian Freier, Tel.: +49-(0)-821/9071-5375, Dr. Korbinian Freier
Publications
PureAlps - Monitoring Pollutants in the Alps (2020)
The report summarizes the results and findings from PureAlps and its predecessor projects from 2005 to 2019. The focus is on air concentrations and deposition rates of:
Polychlorinated dibenzodioxins and furans,
Polychlorinated biphenyls (PCB),
Polycyclic aromatic hydrocarbons (PAHs),
Organochlorine pesticides (OCP) and
Halogenated flame retardants.
The measurements show that chemicals from the group of organochlorine pesticides, in particular, have achieved successes in international chemical regulation, but point to unsolved problems with pollutants such as PCBs. In addition, the measuring stations detect individual novel compounds from the group of flame retardants and organochlorine chemicals, for which international regulation is still pending.
Further Information
Links to other websites
Teilen