Workshops and Events
Workshops in Bavaria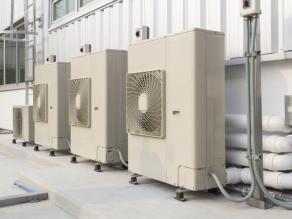 The demand for air conditioning is increasing, especially in countries with high ambient temperatures such as Israel ; Foto: Jürgen Fälchle - Fotolia.com
The target groups for the F-gas workshops in Bavaria are companies that produce and operate refrigeration and air conditioning equipment, RAC Associations, training institutes, government offices as well as the general public. Further information on such workshops shall be posted when the dates have been fixed.
Side-Event at the UNFCCC COP 21 climate conference in Paris on 11 December 2015
The Israel Ministry of Environmental Protection and the Environmental Investigation Agency (EIA) together with the Bavarian Ministry of the Environment and Consumer Protection have organized a side-event at the UNFCCC COP 21 conference in Paris. The title of the event is 'Technological Break-Through in the Refrigeration and Air Conditioning (RAC) Sector: New Cost Effective and Energy Efficient Solutions'. Besides presenting the background to HCFC and HFC reduction in the refrigeration and air-conditioning sector, the event will highlight case studies on HFC reduction and energy efficiency in high ambient temperature conditions. Speakers from the EIA, the Deutsche Gesellschaft für Internationale Zusammenarbeit (GIZ), the Bavarian Ministry of the Environment and Consumer Protection as well as from Israel's Ministry of Economy are expected to present at the event. For further information see also the following link.
Training for Experts from Israel
Training programs and workshops shall be carried out as part of the German-Israel cooperation on the reduction of F-gases. These include thematic workshops for RAC experts in Israel as well as training programs in Germany for Israeli participants from the cooling sector. Experts from the Bavarian Environment Agency, the Bavarian State Ministry of the Environment and Consumer Protection and the German Society for International Cooperation shall hold workshops and discussions on the switch to alternative technologies in the RAC sector.
Two types of Workshops are planned:
Cool Training Workshops in Germany: selected candidates from the refrigeration and air conditioning sector in Israel will participate in so-called "Cool Training" Workshops over a two week period at the Vocational Training College for Refrigeration & Air Conditioning close to Frankfurt. The candidates shall additionally participate in a two–day program in Bavaria. Best-practice examples for alternative cooling technologies in the supermarket sector shall be the focus of the visits. The participants from Israel are expected to be trained on alternatives to F-gases in order to act as multipliers and be able to conduct trainings in Israel.
Technical Workshops in Israel: Technical Workshops on climate-friendly alternatives to F-gases shall be conducted in Israel. The first workshop in Tel Aviv is currently being scheduled together with the GIZ and the MoEP.
For more information on the workshops please contact the Bavarian Environment Agency.
E-Mail contact: Nivedita Mahida